2021/04/01

CITIZEN Launches PROMASTER Eco-Drive Aqualand 200m
Professional Diver's Watches with Light-Powered Eco-Drive*1 Technology and an Analog Depth Meter


The CITIZEN PROMASTER brand captures the imagination of sports professionals around the world with highly functional sports watches. Now CITIZEN is releasing three new ISO*2 compliant diver's watch models from the PROMASTER marine category. They feature water resistance to 200 meters and a depth meter, indicated by a dedicated depth gauge hand, capable of measuring up to 50 meters.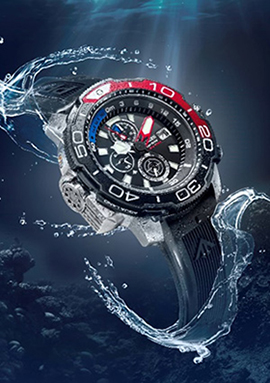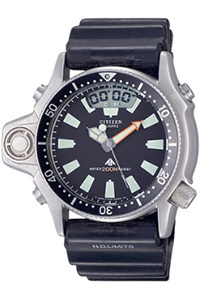 World first: The Aqualand model was launched in 1985 as the world's first diver's watch with an electronic depth sensor.
Professional sports watches in the PROMASTER collection have proven reliability and functionality, even in the harshest conditions, and feature all of the functions necessary for exploring the sky, land, and sea. The first Aqualand diver's watch, launched in 1985, was the first watch of its kind to feature a depth gauge with an electronic sensor. The model was renamed the PROMASTER Aqualand in 1989, and for more than 30 years the Aqualand name has been synonymous with professional diver's watches incorporating the latest sensor technologies. The newest diver's watches in the PROMASTER collection have ISO-compliant water resistance up to 200 meters and feature a depth meter with a dedicated depth gauge hand capable of measuring up to 50 meters.

The 50.4 mm case has an innovative three-piece construction with a unique profile that gives the watch its rugged look. The matte black of the dial contrasts with the different shapes of the hands to ensure high visibility. The design of the subdial at the six o'clock position was inspired by a submarine sonar screen. These light-powered Eco-Drive models incorporate CITIZEN's proprietary technologies, allowing the watch hands to display both the time and depth simultaneously. The addition of a chronograph function results in an intricate dial design that also provides the high visibility needed in a diving watch. These professional sports watches provide functionality, durability, and safety features with a stylish design that can be coordinated with any type of clothing around town.


These models also include an extender strap that allows them to be worn over a wetsuit. This allows easy adjustment of the watch band length for either diving or regular use - the extender strap can be worn while diving and the regular band can be worn back on land.

The light-powered Eco-Drive movement eliminates the need for regular battery replacement, and the watch will keep running as long as there is a light source available. The watch also has multiple safety features including a power reserve indicator, a water sensor, a screw down crown, a screw down push button, and a one-way rotating bezel. These models provide the ultimate combination of functionality and stylish design, incorporating all of the functions needed in a professional diver's watch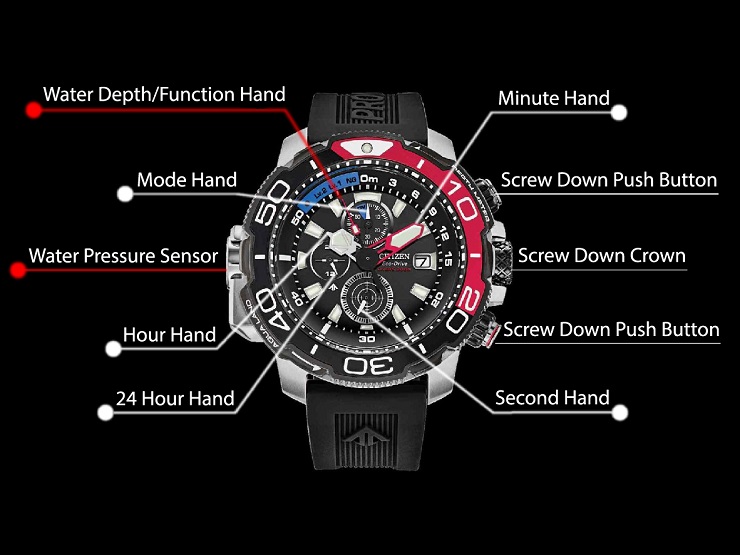 The watch simultaneously displays the current time as well as the current dive depth. It can also display the maximum dive depth after the dive has finished (the depth gauge can measure up to 50 meters). The water sensor detects when the watch enters the water, automatically switching to dive mode, indicated by the water depth hand pointing to DV. The depth meter automatically engages when the watch is underwater, and the water depth hand automatically shows the current depth. The dial ring indicates depths commonly used by divers (3, 6, 9, 12, and 15 meters) in 3 meter increments down to 15 meters. The water depth hand gradually returns to its original position as the diver resurfaces. When the watch is taken out of the water, it automatically switches from dive mode to regular mode.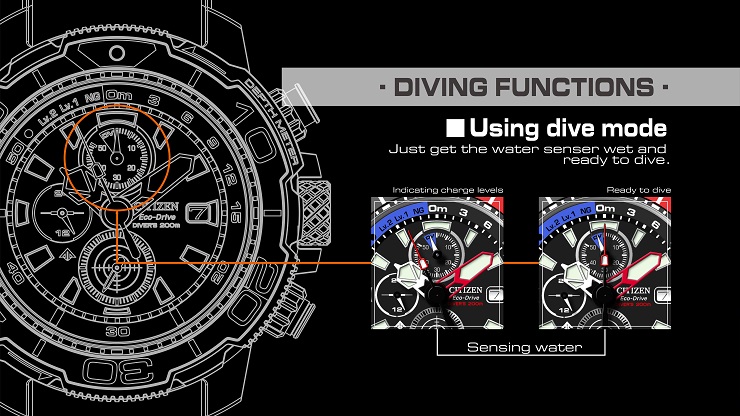 Brand
CITIZEN PROMASTER / Eco-Drive AQUALAND 200m
Model
BJ2167-03E
BJ2169-08E
BJ2168-01E
Launch
April 2021
Price
HK$7,380
HK$7,380
HK$7,380
Case
Stainless (Bezel: Duratect*3 DLC)
Stainless
Stainless (Bezel: Duratect*3 DLC)
Band
Urethane (with replacement extender strap: Urethane)
Case diameter / thickness
50.4 mm / 15.9 mm (design specification only)
Glass
Sapphire glass
Dial Colour
Black
Specifications
Cal. B740 / Accuracy of ±15 seconds per month / Eco-Drive - runs for 2 months on a full charge / 200m water resistance

*1 Eco-Drive is CITIZEN's proprietary technology that powers watches using any natural or artificial light source, eliminating the need to replace batteries. Certified as an Eco Mark product for the first time in the watch industry.
*2 ISO: International Organization for Standardization. "ISO 6425 diver's watch" for all diver's watches to ensure diver safety.
*3 Duratect is CITIZEN's proprietary surface hardening technology that enhances the surface hardness of metals such as stainless steel and titanium, protecting watch bodies from scratches and damage. This technology offers excellent abrasion quality and maintains the luster of metals for long periods of time. Duratect DLC achieves Vickers hardness of 1,000-1,400 by creating an amorphous carbon hard film—mainly composed of carbon and hydrogen—on the surface of the material.




Since its debut in 1989, PROMASTER has become an icon among professional sports watches, known for superior durability and reliability in extreme outdoor environments on land, at sea, and in the air. The three classifications in the series are designed with high-performance specifications and durability: MARINE - for divers, LAND - for climbers, and SKY - for aviation. PROMASTER is exclusively designed for optimum functionality, durability, and safety, inspiring the imagination of generations of active sports aficionados who push beyond physical and mental boundaries




CITIZEN WATCH is a true manufacture d'horlogerie with a comprehensive manufacturing process that extends from creating a watch's individual components to its final assembly. The company operates in more than 140 countries and regions around the world. Since its founding in 1918, CITIZEN has held the belief of "Better Starts Now" — that is, no matter who you are and what you do, it is always possible to make something better, and now is the time to start doing it. Based this belief, we have created watches, invented and improved technologies and explored the future of watches such as our proprietary light-powered Eco-Drive technology and state-of-the-art satellite-synchronized timekeeping.



* The final design and specifications are subject to change without notice.
* Eco-Drive, Duratect are trademarks or registered trademarks of Citizen Watch Co., Ltd.
* The availability, specifications, and related information, such as product code for the models featured in this site, may vary by markets. If you would like to know more details, including the availability of this products in your area, please select your local Website from our global site.